Step 1: Finding your Identification Label
The identification sticker is the key to finding the information you need about your engine. Stickers will look different depending on the engine model, below is an example of an engine label:



Where is the identification label?
Below are the most common places to find your identication label. If the numbers are not visible then we would recommend using a wire brush or scratcher and a torch to help uncover them

Valve Cover
Stamped on the metal plate over the overhead valve (OHV).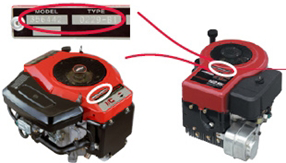 Blower Housing Unit
Aluminium tag located on top of the blower housing next to the rotating screen.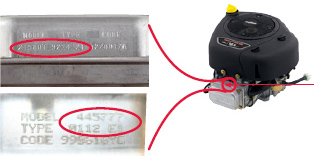 Exhaust
Aluminium tag located on next to the exhaust at the front of the engine.
Please click here for help on where to find your identification label for your specific engine.

Once you have located your label, go to step 2 which will help you find your engine model numbers.